Haz clic aquí para editar.
something was going on.....
Born in 1982 in Barcelona, studied philosophy in UB University and flew to Angoulême (France), to study ilustration and comic in ESI (école supérieure de l'image). There she discovered that photography was not just more than a passion, but a way of thinking the outside and the inside.

Back in Barcelona in 2005, she started Photography in a more serious way in IEFC (Institut d'Estudis Superiors de Catalunya), for three years. In the meanwhile she began to specialise in dance photography as one of the obsessions in her life.

For the last 8 years she experimented with different supports, and nowadays she combinates them (analog, digital, polaroid,empty boxes...) to reach a more artistic result.
---
Con tecnología de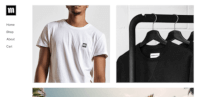 Crea tu propio sitio web único con plantillas personalizables.